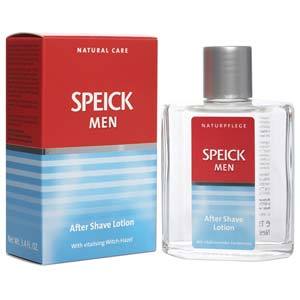 There are some things that are worth mentioning twice. Though I did a write-up about Speick Lotion last year, I just want to throw the Speick Lotion name out there once more – to remind myself too. Of all the after shave lotions I've tried, Speick is by far, very far, the best. From the ingredients (listed below), it appears Walter Rau Speickwerk engineered this aftershave with the shaver in mind. The ingredients like Witch Hazle, Alum, and Lactic Acid are top shelf items in shaving and skin care. Alum helps to cauterize nicks and cuts, witch hazel helps with healing, while lactic acid helps with skin texture and hydration.

Ingredients: Alcohol, Aqua (Water), Sorbitol, Glucose, Mannitol, Valerina Celtica (Speick) Extract, Hamamelis Virginiana (Witch Hazel) Distillate, Lavandula Angustifolia (Lavender) Oil, Citrus Medica Limonum (Lemon) Peel Oil, Perfum (Fragrance), Lactic Acid, Potassium Alum, Menthol, Camphor, Citral, Citronellol, Geraniol, Limonene, Linalool

Who Will Like It: Those who looking for an aftershave that'll immediately stop razor burn. And the scent is so mild, it's ideal for people who enjoy wearing their own cologne, or no cologne or scent at all.

Who Will Not Like It: Those who are averse to alcohol based aftershaves. Depending on your shaving skills, there could be bit of a sting when initially applied.
Speick is available in the U.S. from most online shaving-related retailers, along with Amazon.