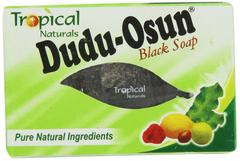 The Good
: Unique black soap out of Nigeria with no artificial colors or preservatives, and is listed as bio-degradable. The ingredients written on the box are pure honey, shea butter, osun (camwood), palmkernal oil, cocoa pod [sic, probably means pot) ash, palm bunch ash, aloe vera, lime juice, and water & fragrance. The soap lathers really well, and leaves my skin feeling clean and as if I've taken a good shower.

The Bad: As with other black soap, Dudu-Osun lathers brown rather than clear or white as other soaps. So the soap residue and drip leaves a brown mess on the soap holder and its surroundings.

The Bottom Line: I paid $2.99 at my local India's Sweet and Spices store for one bar of soap. It can also be had for a similar price from Amazon.com. It's a good soap. But nothing outstanding. The brown residue and the mess it leaves in the soap container is probably a deal-breaker. There are other soaps that are just as good, but won't leave the mess.